Managing Asbestos Contaminated Ground and Asbestos Containing Soils
Historical waste management/demolition practices mean that asbestos-containing soil (ACS) can sometimes be encountered on site, and therefore may be present in made ground, imported fill and within fly tipped or buried waste materials. The term ACS can refer to soils containing pieces of visible asbestos-containing material (ACM) and / or free fibres of asbestos which will not be visible to the naked eye on site and does not differentiate between soils containing trace amounts of asbestos and those with more significant concentrations.
In addition to a survey on relevant buildings/structures, where there is a reasonable expectation of asbestos in soil or made ground, such as on brown-field sites, the survey and site investigation should be appropriate to the nature of the ground and the work to be undertaken.
Guidance can be found in both the CIP Health and Safety and Environmental Manuals and online at CIP Knowledge.
Guidance on ACS can be found in the following publications and App
Asbestos in soil and made ground good practice site guide (C765)
This site guide from CIRIA gives advice to all site workers who may come into contact with, or are required to manage, soils that have the potential to contain asbestos (eg groundworks/earthworks contractors, ground investigation contractors/supervisors, consultants, waste handlers). It provides a framework to help minimise the potential health risks and associated liabilities when asbestos-containing soils (ACS) are encountered on site. It also focuses on practical management of ACS in field conditions.
This app is the UK's first interactive Asbestos aid for site workers on industrial, commercial or residential sites. The app will help support site workers to identify and report instances where suspected asbestos-based items are found on site. An image gallery allows users to view examples of asbestos containing materials and the report mechanism allows them to record items found and their location.  For more details click here
Asbestos in soil and made ground: a guide to understanding and managing risks
This book from CIRIA about Asbestos in soil identifies several key areas of uncertainty in current understanding, with recommendations future research and policymaking in order to address them. This guide recommends a ´lines of evidence' approach whereby more than one method is used to estimate the airborne fibre concentrations likely to be generated from soils at the site.
Other HSE Asbestos Guides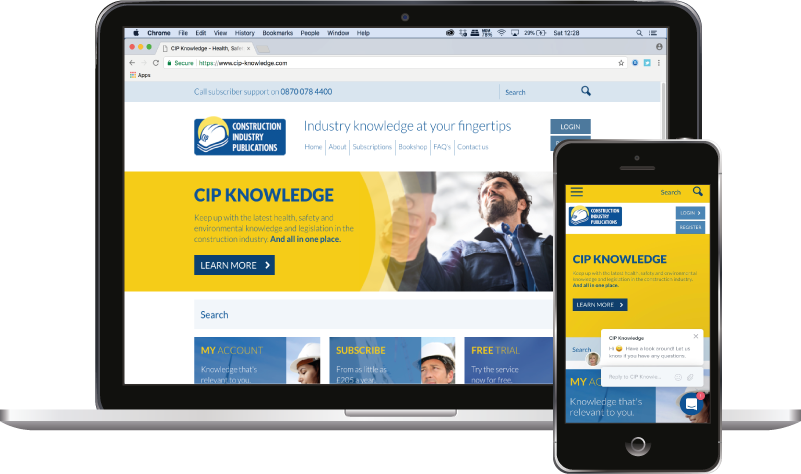 The industry leading CIP Knowledge, now available with pay monthly options...